Nowadays, environmental sustainability is a central topic in the classroom and will continue to be so, even after this year's COP27 in Sharm El-Sheikh has become a distant memory.
The Spanish government has already made clear changes to educational laws and school curricula to reflect the importance of the 2030 agenda, whilst in other countries, such as Australia, there is also a determined focus on sustainability. However, do these changes go far enough? In the case of Australia, for instance, there's still a huge reliance on fossil fuels and a corporate push to increase their exploitation.
 Without doubt, as teachers we act as amplifiers and are often the first to pass on messages that will be echoed by our students to their friends and their families.
So, let's take a look at some simple steps we can take as teachers to plant the seed of environmentalism and help our students make a greener world for us all.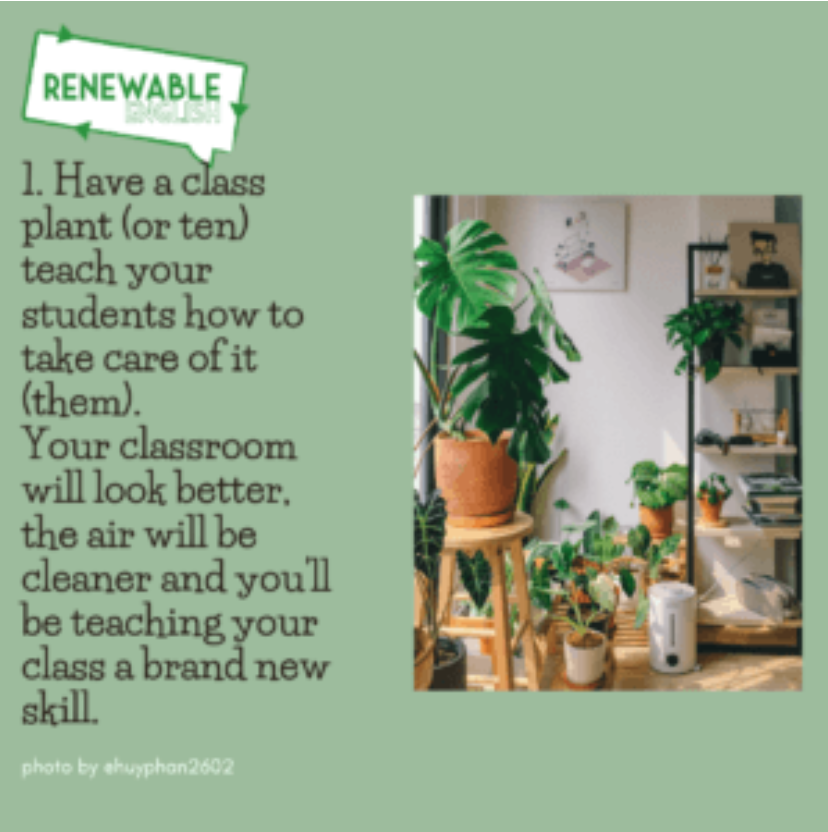 The first and easiest way to plant that first seed of environmentalism is to actually bring nature into the classroom. Buy a class plant (or ten!) to brighten up the classroom, increase oxygen levels and breathe cleaner air (which will lead to longer attention spans, particularly towards the end of the day). 
The simple act of bringing a bit of greenery into the classroom can also lead to all sorts of projects. These can be as simple as keeping track of how much a plant has grown or whether it has grown any more leaves, or flowers. You could also propagate the plant and turn your classroom into a regular indoor jungle. There is plenty of information available about the psychological benefits class plants have for students, as well as the physical boost your students can get from reduced levels of CO2 in the air. In fact, I'm yet to find anything negative about having a class plant!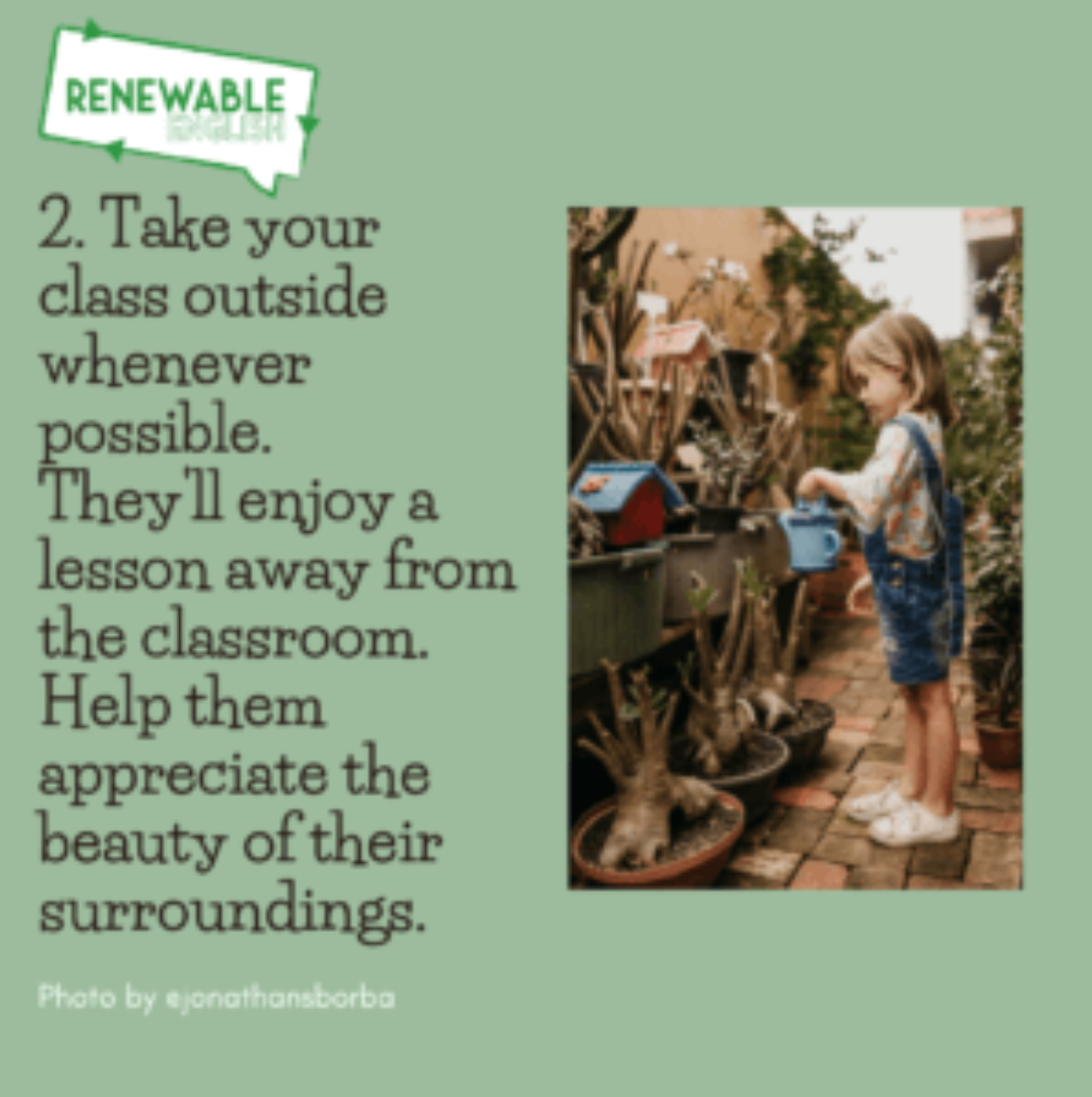 Another very simple step to raise your students' awareness of what's around them is to take them out into nature. This could be just going outside into the playground and having a look at what plants, animals and insects they can see around them.
You can also incorporate your learners' journeys to school into your lessons. Ask them to collect leaves or count how many trees they see on their way in. Do a class bird watch and see how many different species inhabit (or are visiting) your local area.
If you are an inner-city teacher, take the time to help your students go on a mindful journey. Ask your them to close their eyes for a moment and visualise what it's like in a forest, while you play them the sounds of Nature. Visualisation is a great way of building vocabulary, imagination, and respect. It's also a wonderful way of bringing mindfulness into the classroom.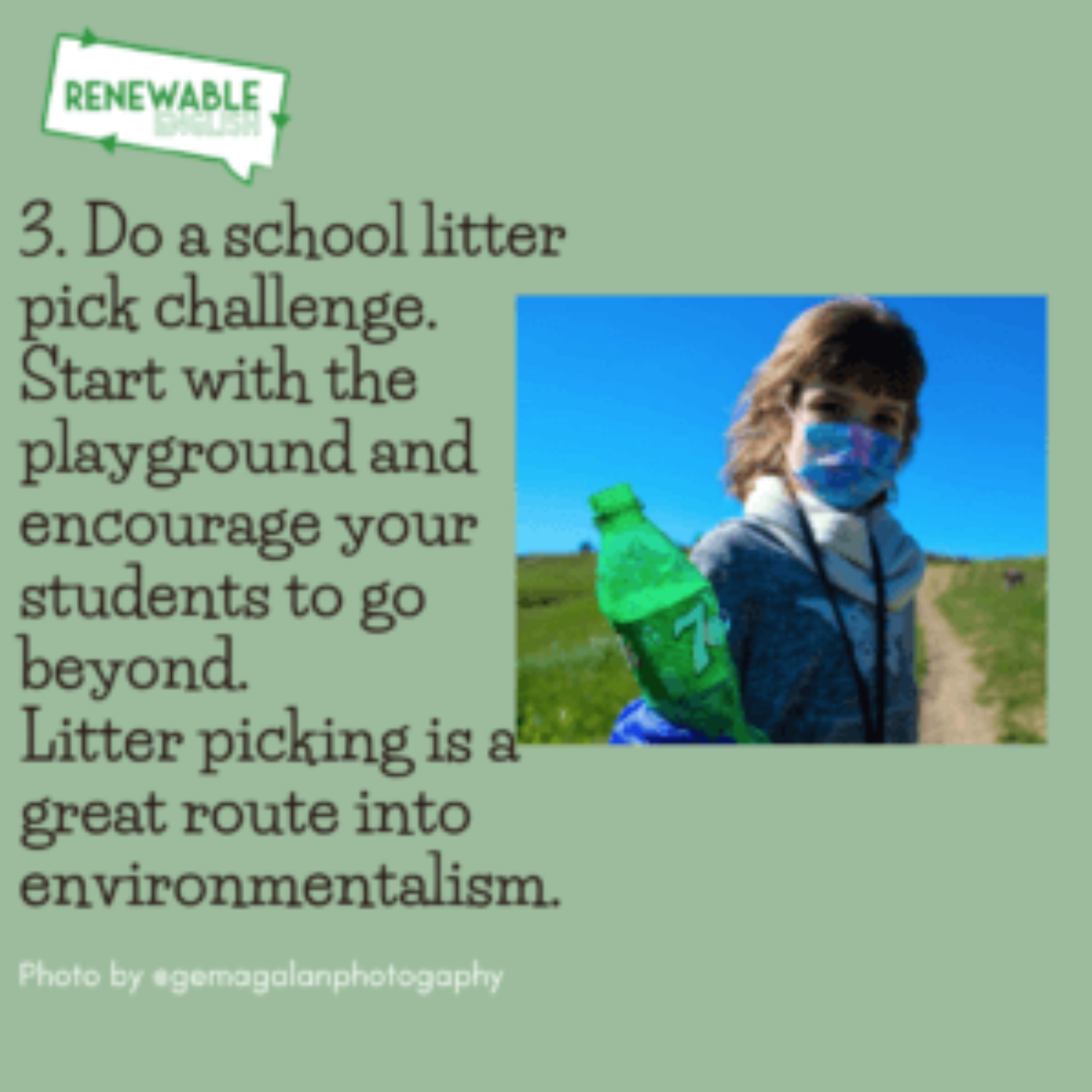 Once you've connected your students to nature, why not get them to start acting on it.
One great initiative at my daughter's school is a school run litter collect. On their way into school, students collect litter and they keep a tally of how much they've collected. Then they have an interclass competition to see who's collected the most.
The activity really helps students to feel that they've made a difference. Sadly, however, they can also see how that difference disappears as the world continues to drop litter. While that sense of achievement is only momentary, it can spark a fire within them. It also helps prevent them becoming litter bugs in future.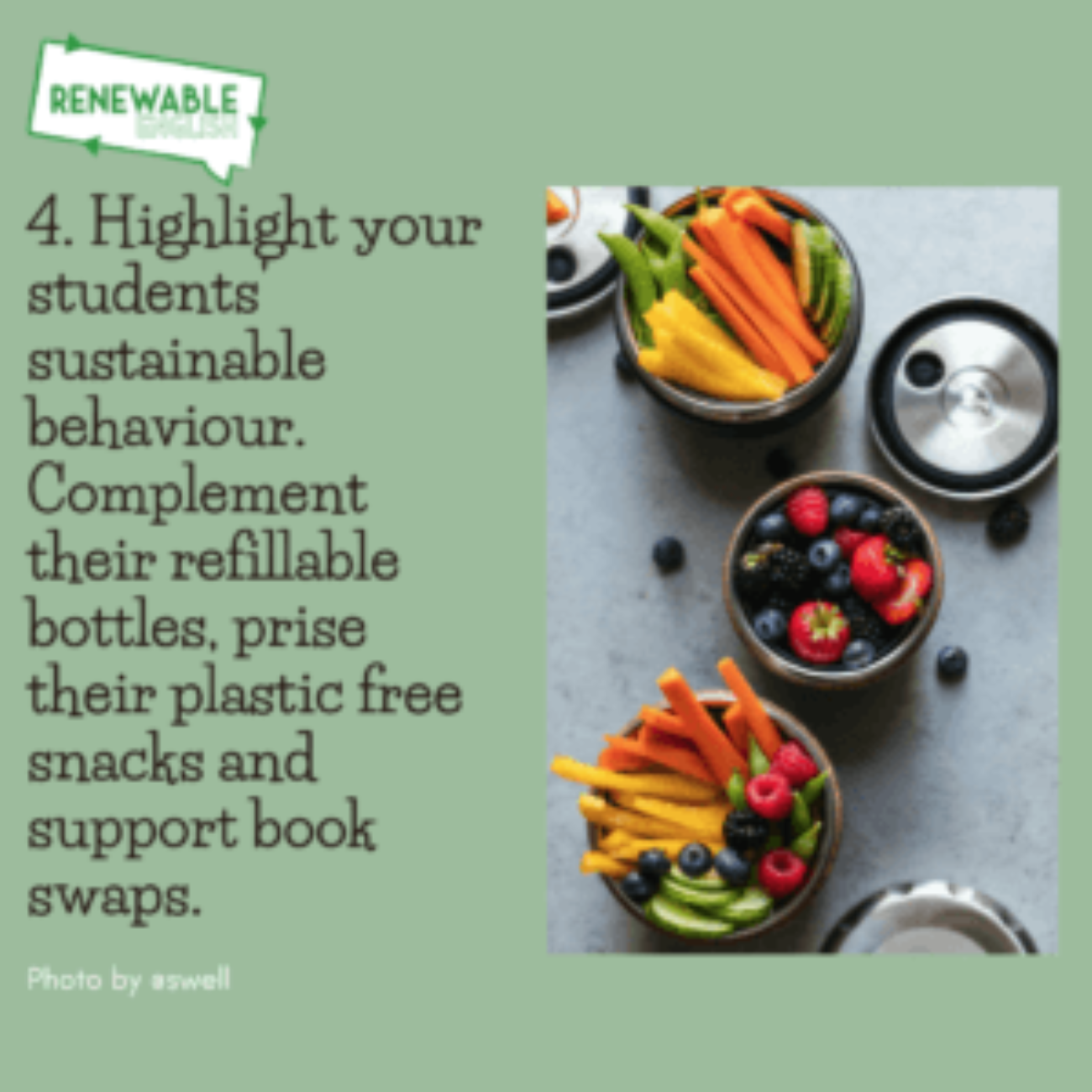 Normalise is a real buzzword at the moment. However, good sustainable environment-friendly behaviour should not be normalised. Of course, these actions should be a normal thing to do, but they should also be celebrated. We all know that a few bamboo toothbrushes won't save the world, but they are proof that a mindset change has happened in whoever has gone to the trouble to acquire one.
So, if your students do bring a healthy snack, celebrate it. If little Jimmy's got a fantastic refillable bottle, ask him where he got his bottle, tell him it looks great and how much you love Paw Patrol. Don't question the fact that Jimmy is 17 years old, and he's got Ryder and his team of pups on a bottle. Simply celebrate the fact that he's managed to keep hold of it for the last ten years of his life!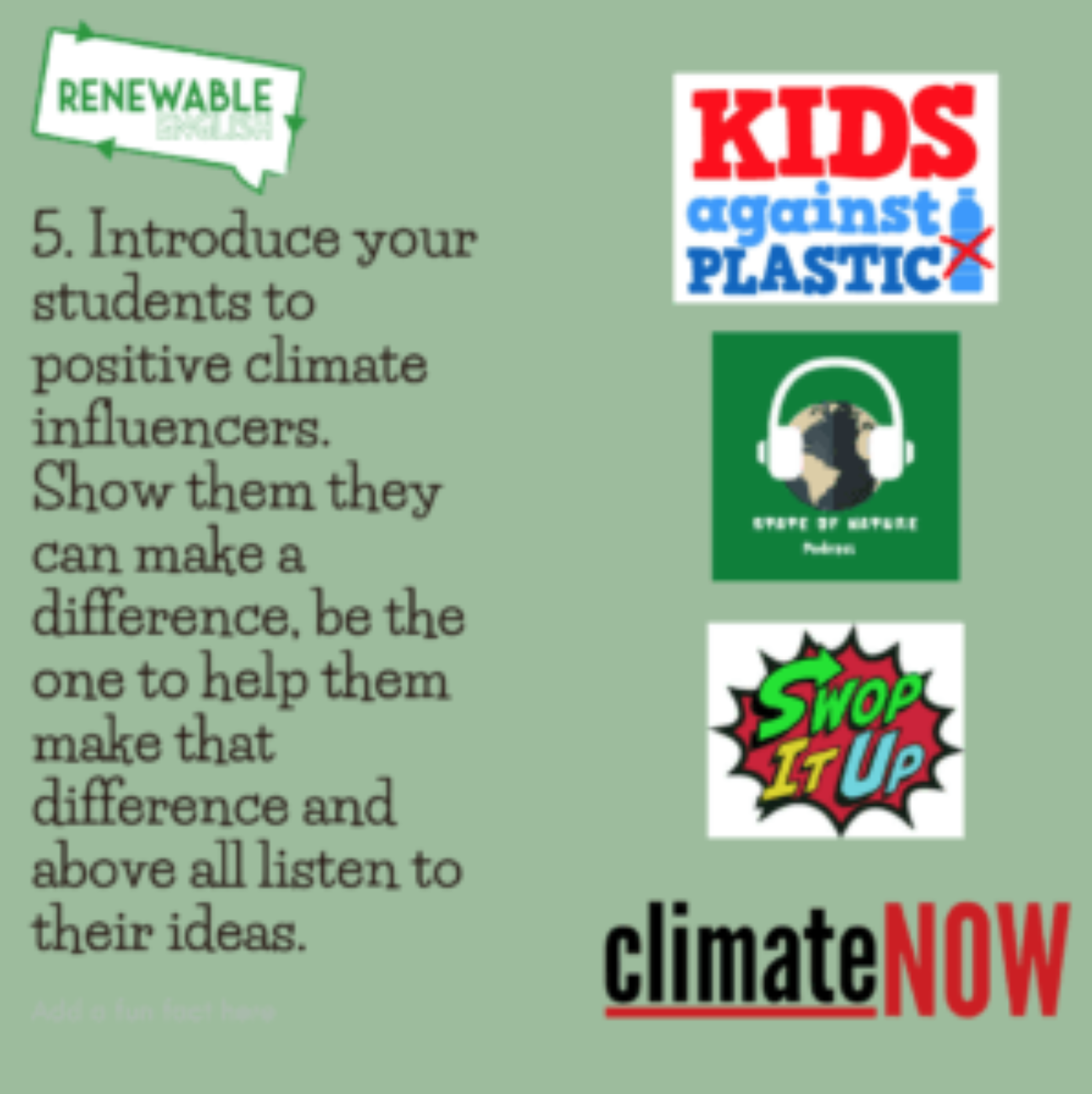 The final simple step is to your students some of the environmentalist influencers spread across social media. Show them the impact that these people are making. Show them that they can learn from people of their own age. Show them what a huge difference they can make if they simply find their voice and use it.
In this respect, @kidsagainstplastic @youthopia and @forceofnature are great to follow: three wonderful example of how young people are out there making a difference.
My advice, then, is to simply do what you can as a teacher to promote environmental sustainability, even if you feel you could do so much more. Your students, and the planet, will thank you for trying!