What is your educational reality at the moment?
With the juggling act we've been doing recently - classes as usual, followed by online lessons, followed by a summer of uncertainty, followed by a return to back the classroom with masks and distancing, and then many of us once again back in front of the camera... We can react in either one of two ways: throw up our hands in despair, or...see these changes as a gift - an opportunity to reevaluate how we could create a more effective learning environment - no matter where they're given. 
Let's examine our experiences over the past few months. Which of the following are most like your own?
Teacher 1, Situation: Pre-school/Lower Primary obligatory online classes in spring 2020:
Before, parents helped your students finish tasks you had begun in the classroom. Now online, you are completely dependent on them - to help them to complete worksheets you upload, to watch videos you send, to open links to webpages for exercises to complete, and to encourage their child to sit in front of the screen during the few synchronous lessons you give. You miss and worry about  your students, you spend most of your energy trying to reach across the digital divide to emotionally connect to them. You are exhausted.
Teacher 2, Situation: Upper Primary, Secondary obligatory online classes in spring 2020:
In the physical classroom, you had begun using innovation in your lessons - scaffolding, short projects, collaborative work. Now online, the lessons you manage to give synchronously depend on numerous technological variables: Have the students received the link to connect to the synchronous class? Do they have to share the computer with their siblings that day? Does their home service have sufficient speed so that they can accurately see the images you project on the screen? Are they paying attention to you or really looking at other webpages?...and so much more. Worrying can take a toll on your health, your students' progress (or lack thereof), the absence of contact with many on your class roster, etc., and you end up reverting back to direct teaching. You are the one speaking almost exclusively for the majority of the school day. You are exhausted.
Teacher 3, Situation: back into the physical classroom with masks and distancing 
You are nervous, your students are nervous, so much time seems to have been wasted in the months before the summer, you wonder how you are going to compensate for the material your students didn't cover.
You don't even consider group activities because of limited physical freedom within and without the classroom and as a result, the lessons have become teacher-centered once more. You have to push your students ahead despite their apathy, worry and discomfort, distribute material, to carry out evaluations so that you have an approximate measure of their advances, keep them quiet and on task, and all the while to plan for the possible eventuality of going back online. You are exhausted.
What are the conclusions teachers from all over the world are reaching?
No matter what situation we're in and no matter what situation we're facing, teacher-centred lessons don't work anymore...
In fact, they haven't worked in a long time, but education has never been under a microscope so much as it has been recently. It's become clear that a learning environment in which the teacher is the centre of attention (because in the end, that is the dynamic that a teacher-centred lesson creates), does not help our students to feel connected, feel safe, or emotionally valued. And so now, with their ability online to literally turn us off, it's time to consider other methodologies. 
Now, as never before, we see that our time with our students in face-to-face and synchronous classes is precious. We don't want to waste this valuable time on activities that have little need for our presence - that require no more than lower-level thinking skills. There's a solution for this: we can send these types of exercises home so that when our students come to class or connect to our virtual lesson, they are prepared to interact with us and their classmates on a more meaningful level - with activities that require higher-order cognitive skills. We will be by their side in the event that they need us as facilitators.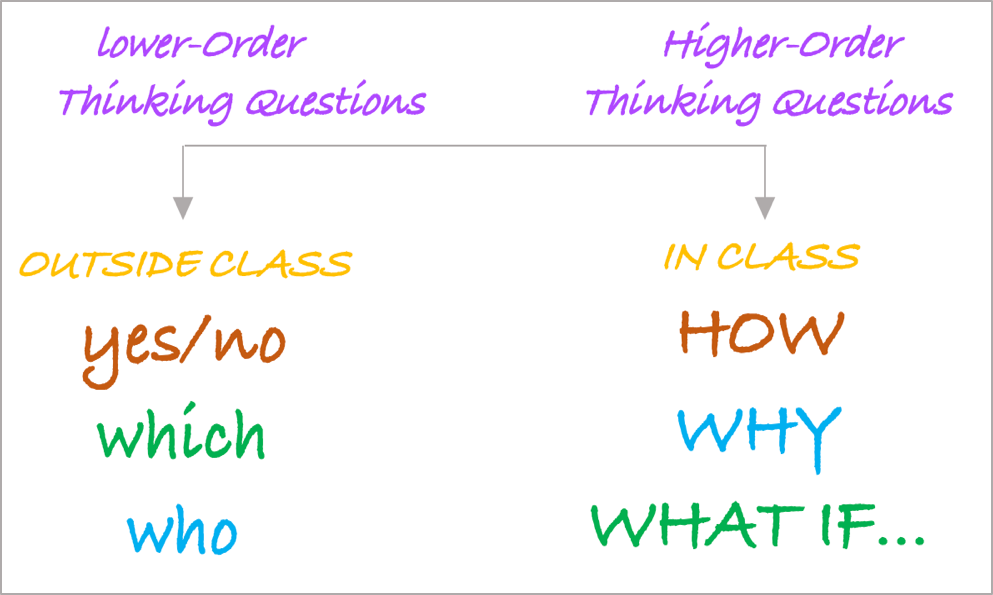 Examples of redistributing exercises based on cognitive demands
Redistributing activities is simpler than it may at first seem. You just need to pause for a moment and decide whether your students need you to be by their side for the activity you're proposing or not. Let's look at an example of a 
Pre-Primary/Lower Primary unit. You'll see that you'll be able to adapt the steps to your own lessons.
Pre-Primary/Lower Primary 
You are about to start a unit/project on 'What is a Friend?'. The final task is going to be paper or digital models of the students' hands, clasping the hands of their classmates. It will include three of their favourite words about friendship written underneath, accompanied by an illustration they have made of each word.
How can you distribute the activities leading up to this final task, so that those that do not require you, are sent home? How about the following plan:
Over a period of time, your young learners are being exposed to the basics of the unit, and so you can build on their knowledge in synchronous lessons through activities that develop their higher-order level cognitive skills. For instance... 
Now it's your turn. Take a look at your lessons and ask yourself: Which require lower-level thinking and which require higher-level cognitive skills? Which would my students need me for me to be present to help them, and which can they do outside of class? What activities can I give them so that they are prepared for our synchronous lessons and so we can delve into the subject in a more meaningful way?
In the spirit of doing our best to share key ideas that will help you to move forward towards innovation in either face-to-face or online classes, please take a look at the resources below. You can use them for your online or physical classes. Richmond is dedicated to helping you to find as many ways as possible to raise the effectiveness of your learning environment.
Stay up-to-date
Receive blog articles as they are published, straight to your inbox.
Go