Assessment is one of the main reasons teachers question whether it's a good idea to dedicate time to project work in class. Don't panic! 
We've got several assessment solutions for you, and we wholeheartedly support your decision to let your students' varied learning styles shine thanks to project work.
So, here, in the first of a three-part post, we'll show you assessment techniques you can use at the entry and exit points of projects: the Enquiry Question and the Final Project Task. 
Ready? 
Traditional assessment
More about this later, but our Enquiry Question for this blog post, as it were, might be: "How do I assess my students in a traditional way when they have displayed such a variety of strengths that aren't evaluated in exams?" 
Well, if you were trained in the traditional top-down teaching and assessment approach, you probably measure your students' progress by their scores on worksheets, quizzes and exams. But who does this assessment satisfy? 
As this is the type of assessment most familiar to administrators, teachers, and parents, it is also the most accepted by these stakeholders. But does it give a true picture of students' abilities?
Undoubtedly, from pre-school onwards, students who have strong linguistic and logical skills are empowered by quizzes and exams geared in this way, whereas students who have different strengths learn early on that their skills are not considered to be valid, and in most cases spend their educational years believing their abilities are valueless.  
Taken to an extreme, the invisibility, or misinterpretation, of students who don't have strong linguistic/logistic skills is frequently the reason we "lose" them, because of what is (and isn't) valued in the educational system. A value system that often causes students who are not particularly gifted in linguistic and logical skills to drop out of school at the earliest opportunity.
 Project work can help avoid this, because it allows students to display and develop a broader palette of learning styles and strengths (see the conclusions of the Swedish Cultural Foundation on this subject).
However, the essential question still remains: To give, or not to give exams?
Traditional assessment
 Part of you is probably thinking that, to a certain extent, we need to play the game.
 And you'd be right.
 If our administrators and parents are currently only able to validate students' progress through exam scores, then it's probably best to use these numbers, letters, and/or percentages. At least in the beginning.
 Meanwhile, by patiently informing and educating all stakeholders in schools about the importance of project work and the alternative assessment that this methodology allows, we will surely engage these same stakeholders. Little by little, by giving these stakeholders appropriate information and room to become more comfortable with a move from traditional teaching and evaluation to project-based equivalents, we can make our assessment of project work more useful and appropriate.
 In this regard, the OECD's conclusions about the skills our students need to strengthen to get a job in the world today, i.e., everything that can be developed through projects, are a great help.
 Here's a summary of these skills:
Top skills for employability (World Economic Forum 2020)
Complex Problem Solving
Critical Thinking
Creativity
People Management
Coordinating with Others
Emotional Intelligence
Judgement and Decision Making
Service Orientation
Negotiation
Cognitive Flexibility
The pandemia has only increased our dependence on technology, which means that…
 85 million jobs will probably be displaced from humans to machines.
Critical thinking and problem-solving top the list of skills that will grow in the next five years.
Newly emerging are skills in: active learning, resilience, stress tolerance and flexibility. 
 Start by using rubrics                                                           
The most logical way to help your students to stay organised (and, quite frankly, to keep yourself sane) is by using rubrics. There are thousands of different types, and every one of us tends to swear by the one that helps us feel most comfortable. Here's the template I've developed over the years and use in my workshops, as the rubric can expand or contract, depending on the length and needs of your project.

Embedded in the rubric are two powerful means of assessment that can give you important and valuable feedback, namely, the entry point and exit point of the project: the Enquiry Question and the Final Project Task.
 The Enquiry Question
 The Enquiry Question (also called the "driving" or "key question") is asked at the beginning and over the course of a project and is designed to engage students and stimulate their curiosity and creativity.
 The Enquiry Question also serves as a perfect marker for formative assessment, because it acts as a marker for you and your students that helps you determine whether you're all on course to discovering and developing information which will flesh out the core concepts and practices required by the project.
 What's more, because of its "lighter" nature, if we refer to the Enquiry Question during the project, students tend to respond more positively than they do to the more "pedantic" parts of the rubric.
 And this is much easier than you think!
 At the end of each session or at key moments throughout the project, it's as simple as asking your students: 
How did your planning session today further your answers to the Enquiry Question?
What could you do during the next session to strengthen your conclusions related to the Enquiry Question?
How did the Mini-Lesson today relate to the Enquiry Question?
If someone were to come into the classroom right now to ask what the answer to our Enquiry Question is, how would you answer?
 The Final Project Task
 When planned carefully, a Final Project Task can cover all elements of a project's content that might be included in an exam (concepts, practices, academic language, issues); which, as such, are equally valid with regard to summative assessment.  

For example, below you can see a rubric for a project in a Primary class, showing detailed criteria for a Final Project Task for a project on hobbies. 

The rubric makes all the relevant curriculum points visible by using a card game and the amount of detail allows you to explain to anyone who questions what you're doing that everything the students would have done in their student books appears in the Final Project Task. 
Nevertheless, your students will also have the opportunity to interact with the material in a more dynamic, manipulative manner, requiring the use of critical thinking, cooperation, communication, and a plethora of other social and soft skills they need to develop. 
And the same can be done in Secondary. 
In the case below, the final task is about cyber safety, a topic introduced via a podcast.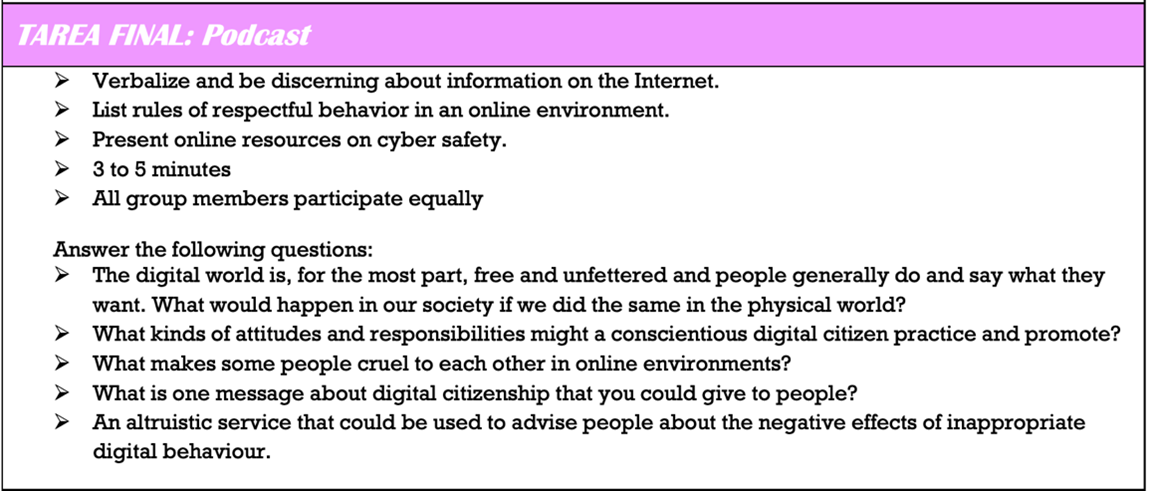 So, what percentage of marks should be given the Final Project Task? 
Your next question, right? Great! 
There's no one correct answer. This is something you'll have to play around with. 
Not the answer you were hoping for?  I know; however, remember the stakeholders? 
Initially, to keep the more traditional stakeholders in your educational community happy, you'll more than likely have to give a traditional exam more weight. But later, as everyone becomes more comfortable with Final Project Tasks and sees them as valid measurements of knowledge acquisition the more weight you give them, (eventually) you'll be able to do without an exam. 
Want to know more about Assessments for Projects? 
Fantastic! 
Look out for Part 2 of this post: To give, or not to give exams? Part 2: Alternative assessment. Balancing content and language objectives in a project.